Why bother with homemade croissants? Because they are light and airy goodies with ultra buttery crust, cotton soft interior and beautiful golden color! Plus, you get a huge ego boost looking at your beautiful creations.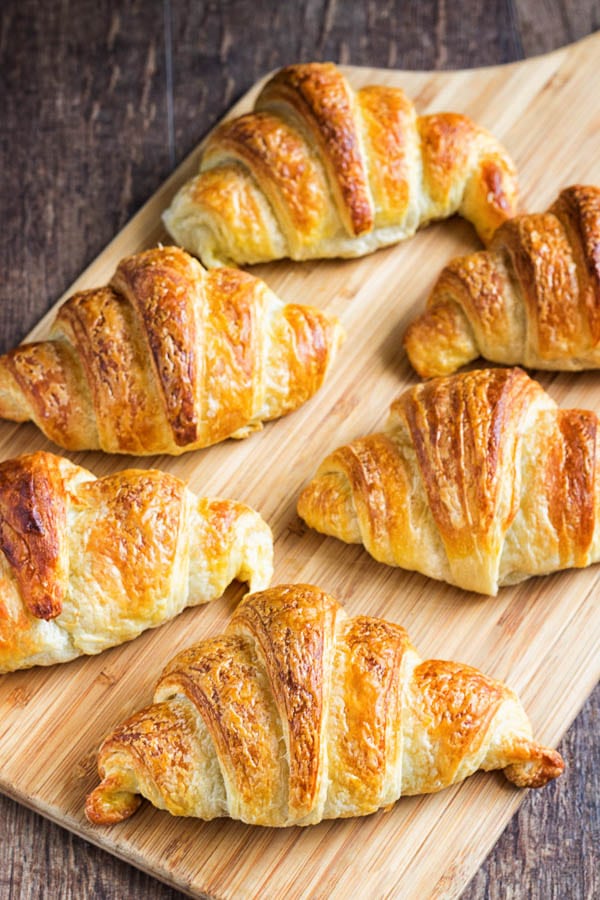 Croissants are my biggest weakness. But unfortunately, you won't find a bakery with amazing croissants around here. Actually, there is no bakery in town. Period!
And the only way I can get my hands on real croissants is to learn to make them myself. Or enjoy them while traveling.
So back in October, 2013, I was on a work trip in San Antonio, TX. While enjoying this delicious croissant for breakfast at the hotel restaurant, I made a promise to myself to never buy a croissant again until I learn to make it myself.
While I didn't quite keep that promise (I couldn't resist one at my favorite bakery in Minneapolis!), but I did learn to make some fabulous croissants from scratch later! Yay for me!
I'm not gonna lie to you that it's a piece of cake to make, because it's not!
Is it really that difficult? No, not really.
The ingredients and the technique are actually fairly simple. It's just a time-consuming and needy process that requires your undivided attention a few times over THREE days. But you know what? It's totally worth it!!
I made my first batch of croissants on April 20th, 2014. And within a month I made 3 more batches. I thoroughly enjoyed the process and learned a ton! And obviously, eating buttery croissants is nothing to complain about!
We all can agree that anything homemade from scratch always tastes better, right? And these croissants from scratch are no exception!
Extra buttery, flaky crust, cotton soft interior, beautiful golden color and that buttery smell of fresh croissants… Nothing beats that feeling of achievement when you look at your picture-perfect croissants made with your own hands!
Now, you can do this too. I included step-by-step pictures below for you to follow. As I mentioned earlier, it takes 3 days to make these croissants. But before you give up on this idea, hear me out.
The first day, it'll take less than 30 minutes.
The second day is when the most action happens. You'll be rolling the dough a few times with two 30-minute breaks in between.
On the last day, you roll the dough one final time and shape the beautiful croissants. And you will be enjoying the buttery goodness in no time.
DAY 1
Day 1 is the easiest. We'll make the dough and let it rest. Combine all the ingredients and knead until nice and smooth. The mixer is not required; you can easily do it by hand. You need to refrigerate the dough for at least 6 hours, preferably overnight. (I like to make this on Friday night after dinner and enjoy the croissants on Sunday.)
Shape the butter into flat square right after making the dough, so that you don't have to worry about it the next day. Don't be tempted to expedite this process by freezing the butter. Frozen butter doesn't soften easily in the next step, and it'll only lead to frustration. Refrigerating for at least 30 minutes will do the trick.
DAY 2
On this day, we'll be rolling the dough with butter. This process is called laminating. Don't get intimidated by this. It's actually easier than you think! Once you place the butter inside the squared dough envelop, you will roll it into long rectangle 3 times with 30-minute break in between.
DAY 3
Since my countertop is not long enough, I cut the dough into two equal parts. It's much easier to roll this way too. You see how many layers you've created by rolling and folding the previous day? Those are the layers you will see in your baked croissants!!
Now, just cut into triangles and roll into croissants. You will get 16 big croissants. If you love chocolate, you place a few chocolate squares, or spread some Nutella.
Whenever I make croissants, I plan on freezing some for later, and that has yet to happen.  Because everyone at the ranch loves these croissants as much as I do.
But I have frozen two of them (just 2 croissants!) for testing purposes, and they do freeze really good. See freezing instructions in the notes section of the recipe below.
Hope you'll make these beautiful croissants. Thanks for reading!
Homemade Croissants
Buttery homemade croissants aren't as hard as you may thing. Yes, it takes a little bit of elbow grease, but nothing you can't do. And the result is so worth it!
Ingredients
For dough:
4

cups

500gr all-purpose flour

1 ¼

cup

300ml milk, at room temperature

¼

cup

50gr sugar

2

tablespoons

unsalted butter

softened

1

tablespoon

instant yeast

1 ½

teaspoons

salt
For laminating:
1

cup

225gr unsalted butter
Instructions
Day 1
In a large mixing bowl with dough hook attachment, combine all the ingredient for the dough and mix until the dough comes together for about 5 minutes. Transfer the dough onto floured surface and knead for a minute. Flatten it into a disk and place it in the floured dish. Cover with plastic wrap and refrigerate for at least 6 hours, or overnight.

Half the butter sticks lengthwise and put them on a large parchment paper. Place another large parchment paper over the butter and roll into 7x7in square. Trim the edges and place them over the butter and roll again until you get nice and even flat square of butter. Refrigerate for at least 30 minutes, or overnight. Do NOT freeze.

Day 2

Roll the square dough on the floured surface into a 10x10in square, it doesn't have to be exact, but close enough. Place the 7x7in butter square on the dough and fold the edges like an envelop, as shown above. Pinch the seams securely.

Roll the dough into 8x24in rectangle. Again, it doesn't have to be exact measurements, but do your best to be close to that. Fold into thirds and cover with plastic wrap. Refrigerate for 30 minutes.

Repeat the step 4 two more times. If the dough resist too much at any point, refrigerate for 10-15minutes.

Day 3

If you have long enough countertop surface, roll the dough into 8x44in rectangle on floured surface. Because my countertop is not that big, I cut the dough into 2 equal parts, and rolled each part into 8x22in rectangle. Make sure to lift the dough before final measurement, because it shrinks back a little.

Mark every 5.5in on both sides of the rolled dough. Using a pizza cutter, cut the dough into smaller rectangles, and then cut each rectangle into triangles. You should get 16 triangles total.

Since the triangles are not perfect, slightly stretch one corner to make it more perfect triangle. Slightly roll each triangle if needed. Slit the bottom side of the triangle and roll into croissant shape, as shown about. If desired, you can smear some Nutella before rolling.

Place the croissants on the baking sheets, lined with parchment paper or silicone mat. Let them proof for about an hour.

Preheat the oven to 425°F (220°C).

In a small bowl, beat an egg with a tablespoon of water. Brush the egg wash over the croissants. Bake for 20-25 minutes, until golden brown. Serve warm.
Tips & Notes
Store the croissants in airtight container at room temperature for up to 2 days.
Freezing instructions: Once you shape the croissants, instead of proofing, simply place the baking sheet into the freezer for at least 3 hours, or until completely frozen. Then transfer them into a ziplock bag. These can frozen for up to a month.
To bake the frozen croissants, first thaw them on a baking sheet, lined with parchment paper, or silicone mat covered with kitchen towel on the counter overnight. In the morning, continue with step 10.
Nutrition
Serving:
1
g
,
Calories:
256
kcal
,
Carbohydrates:
28
g
,
Protein:
4
g
,
Fat:
14
g
,
Saturated Fat:
9
g
,
Polyunsaturated Fat:
1
g
,
Monounsaturated Fat:
4
g
,
Trans Fat:
1
g
,
Cholesterol:
46
mg
,
Sodium:
233
mg
,
Potassium:
69
mg
,
Fiber:
1
g
,
Sugar:
4
g
,
Vitamin A:
444
IU
,
Vitamin C:
1
mg
,
Calcium:
32
mg
,
Iron:
2
mg
This recipe was originally published on May 26th, 2014.