How to make a roll cake, a simpler way. No need to roll the cake while hot, this spring-y sponge cake is super pliable and rolls beautifully without cracks!
Read the full post for lots of tips for success.
Did you know a roll cake is so much easier than a layer cake? That's true, and it comes together quicker than most cakes too!
One of my early baking memories involve a roll cake, or roulade (рулет) in Russian, as we used to call it. I love the simplicity of it!
And now, it's my go-to dessert when I don't have much time for an elaborate cake. The result is just as impressive, if not more!
Today, I'm sharing my go-to roll cake recipe with you, and it's simply magical how flexible this cake is! A thin layer of jelly adds nice sweetness, homemade whipped cream highlight the airiness and fresh fruits add burst of freshness!
INGREDIENTS FOR A ROLL CAKE:
You only need handful of ingredients to make that spring-y light sponge cake.
Eggs: Separate egg yolks and whites right out of the fridge while they're cold, because it's easier. And let the egg whites come to room temperature, about 30 minutes on the counter, so it whips better!
Cake flour: Cake flour makes the fluffiest cake! By the way, cake flour clumps easily, that's why it's important to sift it!And if you don't have cake flour on hand, no problem. Here's how to make one at home: Measure 1 cup of all-purpose flour, and replace 2 tablespoons of flour with 2 tablespoons of cornstarch. Sift it.
Sugar: I recommend fine granulated sugar so it dissolves quicker, which will make the best fluffy cake.
Salt: Any dessert needs a pinch of salt!
Baking powder: Just a little insurance for a good lift!
Milk: Any kind of milk will be fine. I've used whole milk and 2% milk.
Vegetable oil: It's essential for spring-y cake and helps the cake roll without cracks! You can substitute with any flavorless/odorless oil. Vegetable or canola oils are best. Coconut oil is fine, as long as you're ok with possible coconut flavor. I don't recommend olive oil, as it's too aromatic.
Lemon zest: I love the hint of zesty lemon. You may omit it, if you don't have it.
HOW TO MAKE A ROLL CAKE:
It's quite simple to make this roll cake, and you'd be enjoying it in less than 90 minutes, from start to finish! Although, I highly recommend to let it set in the fridge for an hour before slicing. But who am I kidding, we practically dive in right away!
Let me walk you through the process, step by step.
Step 1. Make the cake
We're using a sponge cake batter with a little addition. We're adding a little bit of oil and milk into a classic sponge cake to ensure the cake is nice and pliable!
*See the tips for fluffy cake below!
TIP: The pan size plays a huge role in this recipe. I'm using my go-to 12x17x1-inch half-sheet baking pan (seriously, I use these for everything, and I have like 5 of them!) I don't recommend using anything bigger than this, or your cake will be too thin.
You can use different pans, but no smaller than 11x17x2-inch, or the cake will be too thick to roll.
Step 2. Trim the edges
It's important to cut off the edges of the cake, because the edges tend to be drier and harder. It'll roll neater, when it's trimmed, trust me.
A sharp knife is a key for a clean cut, and this serrated knife (<- under $30!) is especially great for this task!
TIP: Cut one short end of the cake at a slight angle, as pictured below. This end will be at the bottom of the cake, and it'll help the cake to sit sturdy when it's cut at an angle like that.
Step 3. Fill and roll
Now that we made a gorgeous cake, let's fill it with something extra special: a homemade whipped cream! It couldn't be easier to make too. I also like to add a thin layer of jelly or jam for a pop of sweetness.
TIP: Make the whipped cream before you bake the cake, or while it's baking. You don't want to cool the cake for too long, or it'll dry out and won't roll nicely.
TIPS FOR LIGHT AS AIR ROLL CAKE:
Since it's a sponge cake, we rely on all the air in the batter for rise.
When separating egg yolks and whites, be careful not to add any yolks into the whites. And keep the egg whites in a clean, grease-free bowl.
Don't rush through beating the egg yolk mixture. Your egg yolk mixture should turn into a thick, pale yellow batter and triple in size!
Fold the batter gently to avoid deflating all the air in the batter.
Don't over-bake the cake, or it'll dry out.
TIP: Did you know it's easier to separate egg yolks and whites while they're cold? And it's best to whip the egg whites while they're at room temperature!
Do you roll swill roll hot or cold?
For this recipe, you don't need to roll the cake while hot to form it into a shape. However, you don't want to cool it for too long, or it'll dry out and will crack easily when you roll it.
Just cool it until it's not warm, about 20 minutes out of the oven.
How to prevent roll cake from cracking:
Ah, this's the #1 issue when it comes to roll cakes – cracks!!! How on earth do you make perfect rolls?
Start with a right recipe – the one that produces spring-y soft cake. And congrats, you've landed on it!
Don't over-bake the cake! If you're using half-sheet pan, as I have, you only need to bake it for about 15 minutes. I'd start checking on it after 13 minutes. And if you have smaller pan, bake a minute or two longer.
Don't cool the cake for too long. Cooling for over 30 minutes will dry out your cake, and it'll more likely to crack.

How to cut a roll cake:
It's easier to cut a roll cake after it's been chilled in the fridge, for at least 1 hour and ideally 2-3 hours.
And this knife is the best one for nice and clean cuts!
How to store a roll cake:
Keep this roll cake in the fridge since we used whipped cream filling. If you filled yours with just a jam/jelly, then you can keep it on the counter.
Can I freeze a roll cake?
Again, since whipped cream isn't ideal for freezing, I don't recommend freezing it.
However, if you have a simple roll cake with jelly, and possibly buttercream, or cream cheese frosting, then you can freeze it just like any layer cake.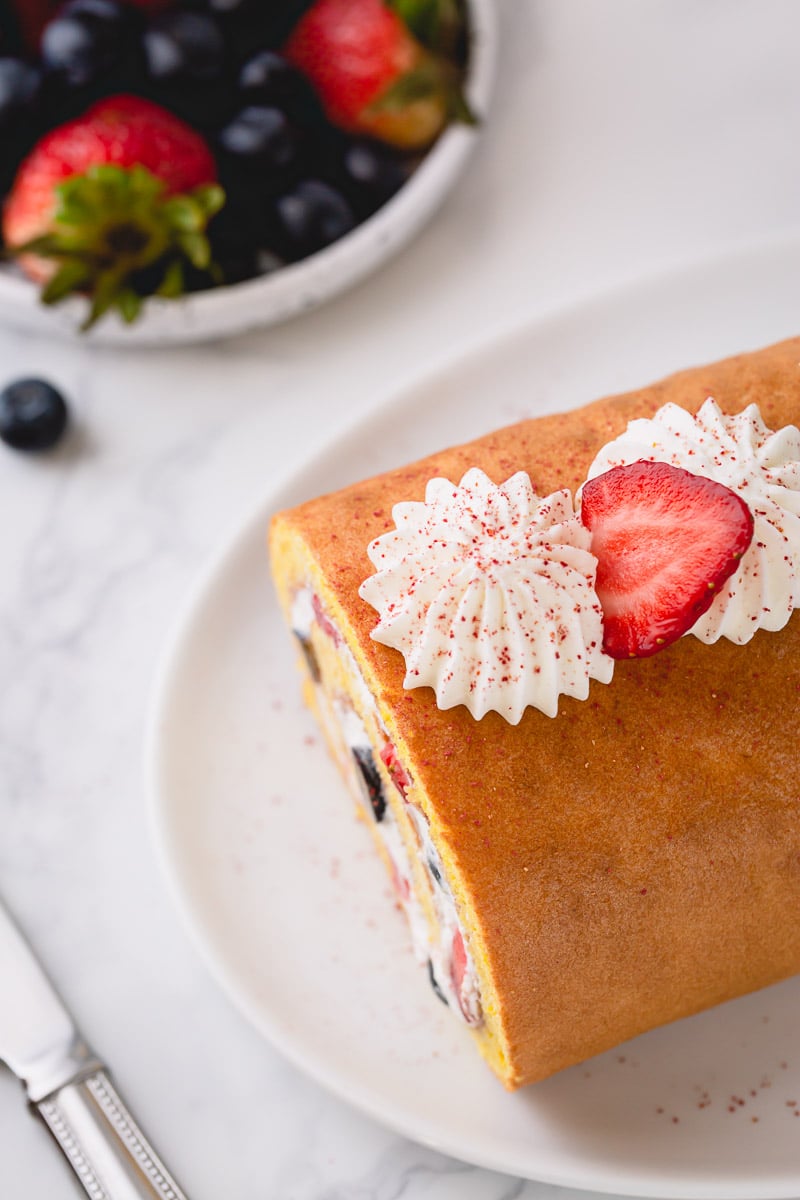 Now, what is the difference between roll cake, Swiss roll, roulade and jelly roll?
I know, I get confused too! What do I name this cake? From what I can find on the internet, it sounds like they're all referring to the same thing. The different name just come from different times in history. So you can call it what you wanna call it. For me, it'll always be a roulade.
Hope you'll make this easy roll cake this summer. And if you're making it for a company, make two of them, because trust me it'll be gone in minutes.
How to Make a Roll Cake
Let me show you how to make a roll cake, a simpler way. No need to roll the cake while hot, this sponge cake is super pliable and rolls beautifully without cracks! And a thin layer of jelly adds nice sweetness, homemade whipped cream highlight the airiness and fresh fruits add burst of freshness!
Prep: 40 minutes
Cook: 15 minutes
Total : 1 hour 30 minutes
Ingredients
For sponge cake:
6 eggs Note 1
2/3 cup 130gr granulated sugar, divided
1 cup 125gr cake flour (Note 2)
1 teaspoon baking powder
¼ teaspoon salt
3 tablespoons 50gr vegetable oil
3 tablespoons 50gr milk (Note 3)
Zest of 1 lemon optional
For filling:
¾ cup 180gr heavy whipping cream
2-3 tablespoons sugar
1 teaspoon pure vanilla extract
1 cup assorted berries more for decoration, if desired
½ cup your favorite jelly Note 4
Note: I test all my recipes with both measurements for the most precise and accurate result!
Instructions
To make the batter: Separate the egg yolks and egg whites. Set aside. (TIP: Cold eggs separate easily. See my note 1 for more details.)

Preheat the oven to 375°F (190°C). Line baker's half baking sheet with a parchment paper.

In a small bowl, sift together flour and baking powder.

In a mixing bowl with a whisk attachment, whisk the egg yolks, vanilla extract and 1/3 cup of sugar until pale and tripled in size.

In another mixing bowl with whisk attachment, beat the egg whites on medium speed until frothy.

Then add remaining 1/3 cup of sugar, one tablespoon at a time. Increase the speed to medium high and continue to beat until soft peaks form.

Spoon half of whipped egg whites into the egg yolk mixture. Mix with a spatula until smooth, and then add the remaining whipped egg whites. Carefully fold the batter until smooth.

Add sifted flour mixture into the batter and gently fold until no dry flour visible.

In a small bowl, combine oil, milk and lemon zest.

Add ½ cup or so batter into the milk mixture and mix it until smooth.

Pour the mixture into the batter and gently fold it until well combined. (TIP: Fold the batter gently so you don't deflate the batter.)

Pour the batter into the prepared baking sheet, smooth the surface evenly, with a bench scraper.

Bake the cake for about 15 minutes, or until inserted toothpick comes out clean.

Cool the cake on wire rack for 5-10 minutes. Run a flat spatula or butter knife along the edges and carefully flip the cake out onto a clean surface. Peel off the parchment paper.

Using a sharp serrated knife, cut off the edges. Cut one short side at an angle, as pictured above. It'll make the roll cake look better after it's rolled. Cool the cake completely.

To make the whipped cream: In a mixing bowl with a whisk attachment, beat heavy whipping cream, sugar and vanilla extract on medium speed until soft peaks.

To prepare the fruits: Cut the berries and fruits into small pieces.

To assemble the roll cake: Spread the jelly evenly all over the cake.

Next, smear half of the whipped cream over the jelly. Arrange the fruits and then smear another layer of whipped cream over the fruits.

Starting at the short end with straight edge, roll the cake, somewhat tight. Wrap the cake in a parchment paper and refrigerate for at least an hour, before slicing and serving.

Decoration ideas: you can simply dust powdered sugar over the rolls. Or pipe some designs with whipped cream on top.

To store, refrigerate leftover cake, covered.
This recipe was originally published on June 9th, 2014, and updated on July 6th, 2020.