How to Make an Epic Charcuterie and Cheese Board
Let me inspire you to make an epic charcuterie and cheese board with 6 simple tips. Wow your guests with minimum effort! No skills required!
There's no better way to welcome your guests than greeting them with a platter of charcuterie and a drink. It'll instantly put them in a right mood for a fun and relaxing evening!
Tip #1 – Choose different varieties of cheeses
Classic rule of thumb: get a combination of different cheeses, such as soft, hard, aged and blue.
Here are some examples for each type:
Soft: brie, ricotta, goat cheese, camembert
Hard: parmigiano reggiano, gruyere, asiago
Aged: aged cheddar, aged havarti, sharp cheddar, goat gouda, comte
Blue: stilton, gorgonzola, danish blue. For milder blue cheese, look for less veiny (blue) and soft n' creamy type of blue cheese.
Tip
Choose at least one well known cheese, like sharp cheddar.
Tip #2 – Arrange cheeses in proper order
Arrange the cheeses from mild to strong from left to right, or in a clockwise pattern. Don't forget to label the cheeses.
Place one cheese knife for each cheese type to prevent mixing the flavors.
Tip
If you have a pungent cheese, place it separately so it doesn't overpower the rest of the cheeses.
Tip #3 – Pick a variety of meats
Now, let's get to the meat of the post – charcuterie! (Pun intended.)
Charcuterie ("shar-coo-tu-ree") means a variety of cured meats and even patês. Examples of charcuterie: prosciutto, salami, ham, bacon, chorizo, liver pate and more!
It's a must for well rounded charcuterie and cheese board. I love white wine salami and prosciutto. Oh so good!
Tip
Since smoked meat is pretty strong, stick to one option to not overpower other cheeses and meats.
Tip #4 – Plan enough servings
Typically, you'll need 3-4oz of cheese and 3-4oz of meat per person, if you're serving the platter as a light meal. For an appetizer course, you can get away with about 2oz of each cheeses and meats per person.
Tip
For a big crowd, it's usually advised to offer 5 types of cheeses.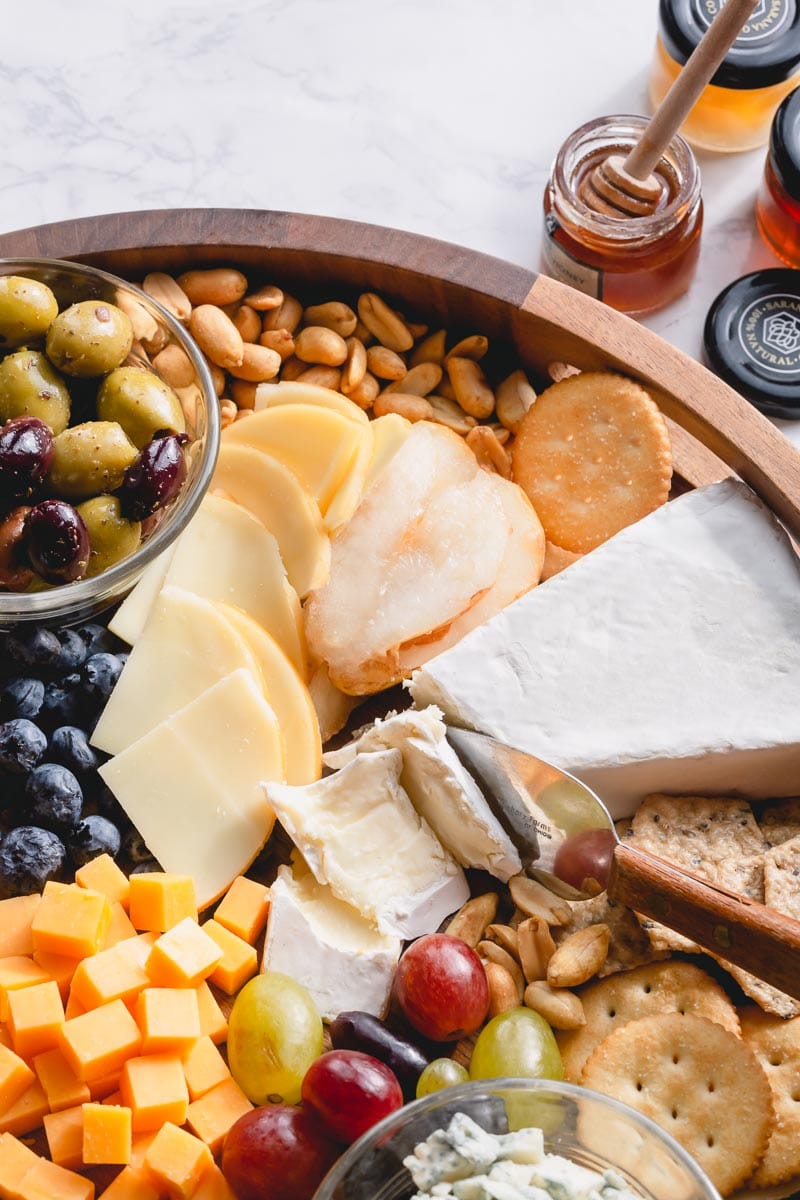 Tip #5 – Bring the cheeses to room temperature
About an hour before serving, bring out the cheeses, unwrap them so that they can breathe and come to room temperature. The cold temperature dulls the flavor.
Tip #6 – Accompaniments
You can't serve meat and cheese board without accompaniments. These add-ons are not only here to fill in the gaps, but they also add texture and flavor contrast to cheeses and meats, making each bite a fantastic experience.
There 3 main types of accompaniments you could serve with your cheeses:
Bread: I like to serve variety of breads, like different types of crackers, toasted or fresh baguette slices, bread sticks. Also, these savory cheese puffs are a great addition.
Sweets: Any seasonal fruits, like pomegranates, figs and pears, are great! Also, honey and various fruit preserves and chutneys are excellent.
Salty: Smoky almonds, cashews, pistachios, and any nuts, in general, are awesome salty add-ons, as well as artichoke hearts, olives, and pickles!
Crunchy: Adding a variety of nuts adds texture and crunch. For example, candied pecans are a perfect addition to a cheese board.
Tip
And finally, the most important tip is that there's no right or wrong way to make a charcuterie and cheese board. Experiment, have fun and enjoy!
Charcuterie and Cheese Board
Let me inspire you to make an epic charcuterie and cheese board with 6 simple tips. Wow your guests with minimum effort! No skills required!
Ingredients
A variety of cheeses, like sharp cheddar, le gruyere, brie, smoked gouda, blue cheese, and brie

at room temperature

A variety of cured meats, like salami and prosciutto
A variety of crackers
French baguette

sliced

Fresh seasonal fruits, like pear, blueberries, grapes

washed

A variety of nuts
Olives
Instructions
Slice the cheeses. (This can be done a day in advance. Keep the sliced cheeses in an airtight container in the fridge.)

Arrange the cheese on a platter first. Then add meats.

Place some of the accompaniments, such as olives, in a small bowl. Arrange the small bowls on platter next.

Now, arrange the crackers and then fill in the gaps with the remaining items, like nuts, fruits, etc.